If you're looking for a travel blog who have tons of information about cycling in Europe then you're in luck. Our Meet the Nomads feature this week is a couple who have been to a DIY cycling tour around Europe and have written a lot of helpful articles about it.
On July 2013, Celia and Jonas, a Danish couple, set-off for a biking rip which starts from Copenhagen all the way down to Rome. They have written travelogues and cycling tips about every stops they have made in this journey. You'll also find a lot of tips for working remotely as they're also managing their content management business and a handful of niche sites while traveling.
Get to know more about Celia and Jonas and follow their adventures at Nomadic Danes.
But before you leave this page, check out my short interview with Celia and Jonas.
How did you discover your passion for travelling?
"We've both always enjoyed the occasional trip to a foreign country and we've always been saving our money to go on amazing trips. However, we always found money to be a huge problem for us, because travelling is expensive – or so we though. In 2011 Jonas lived 5 months in San Diego, and in 2012 Celia lived 4 months in San Francisco. We discovered that living somewhere for a longer period of time was actually not expensive at all. At the same time we started to work more and more online. And so we put two and two together and decided to travel the world while working online. Finally, travelling didn't have to be expensive!"
What's the most horrible experience that you've had on the road?
Luckily, we haven't had any really bad experiences on the road, but on our recent bike trip across Europe, we did occasionally end on the highway which was pretty insane. Nothing happened, but we were really scared.
What's the best travel experience that you've ever had?
"In 2011 we decided to rent a car in San Diego for a short road trip. We drove all the way to Flagstaff, Arizona, where we rented a hotel. We spent the next two days exploring the Grand Canyon. The majestic canyon just completely blew us away and we're both so happy that we made this trip happen. We hiked down the canyon and just had the most amazing weekend, exploring this natural wonder. We're still beyond words and want to go back so badly!"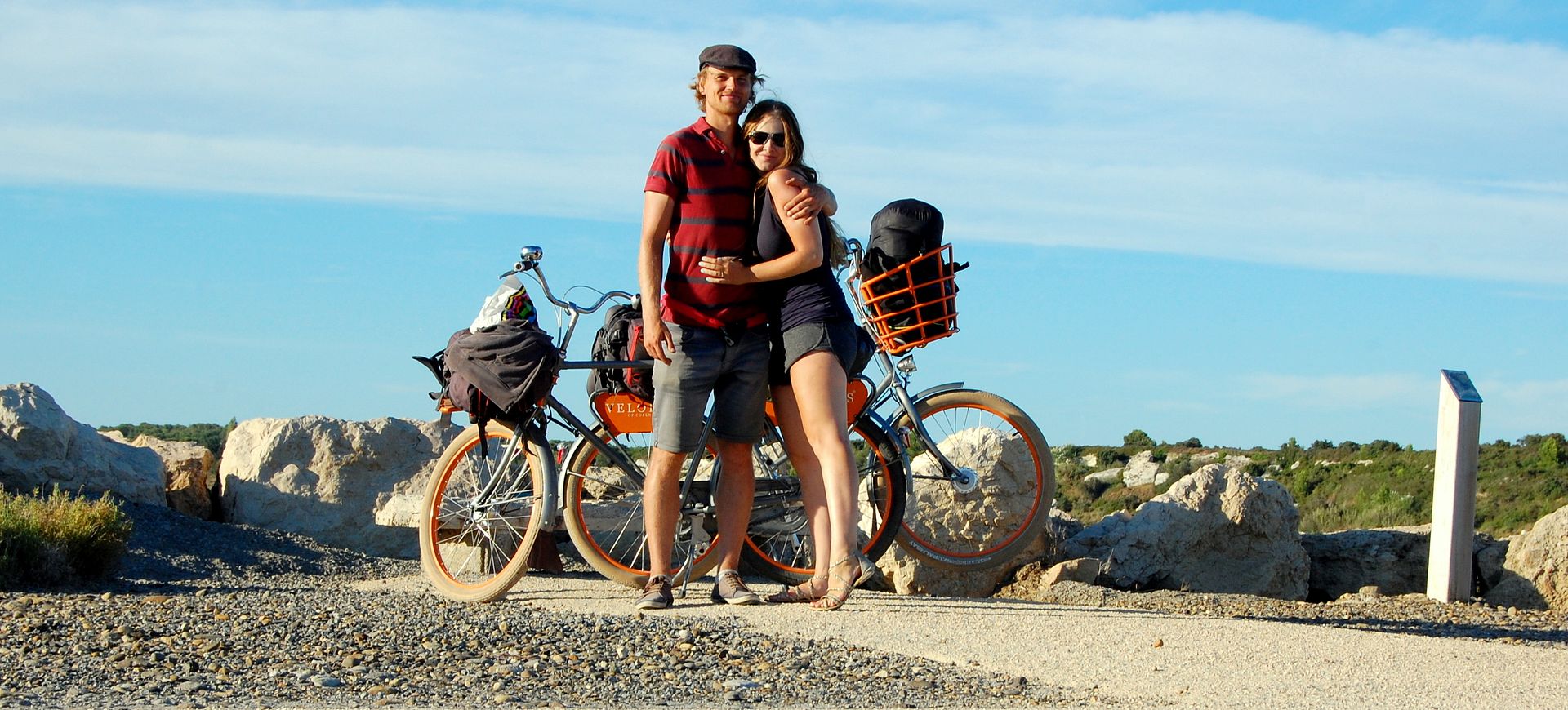 What's the biggest realization that you've got out of travelling?
"We've had many realizations already, but the most amazing thing that we've learned so far is that people are generally good and that they'll go out of their way to help you. We've been taken in for the night by an elderly couple in Germany who also made us dinner and breakfast, had our water bottles filled, stayed with strangers (mostly through couchsurfing), been on hikes, gotten drunk with new friends in Monaco… We could go on and on. But mostly we've been met by open-minded and positive people wherever we've been. It has been amazing so far to experience the good in other people."
What keeps you going? What keeps you motivated?
"We've really struggled with this and sometimes it's hard to explain to our families what it is that we do – and that this is a lifestyle, not a long vacation. But all the experiences we've had keep us motivated. Also other travel blogs – just like Flip Nomad and many others – keep us motivated every day. Seeing that other people are actually doing it are really helping us believe that we can really make this work. And just looking at pictures of the destinations we're going to reminds us that we have so many more amazing experiences waiting. That keeps us going."
This is a silly and hypothetical one. If you would be given a chance to travel with a popular person or a celebrity, who would it be and why?
"We've actually talked a lot about this question… This year we saw Michael Palin (of Monty Python) talk about his travels around the world and it was so inspiring. Michael seems like a down to earth guy who sees the world in a very positive and non-political way. His main focus is the people and he seems to try to understand them. Also, he's a funny man and we'd absolutely love to travel with him!"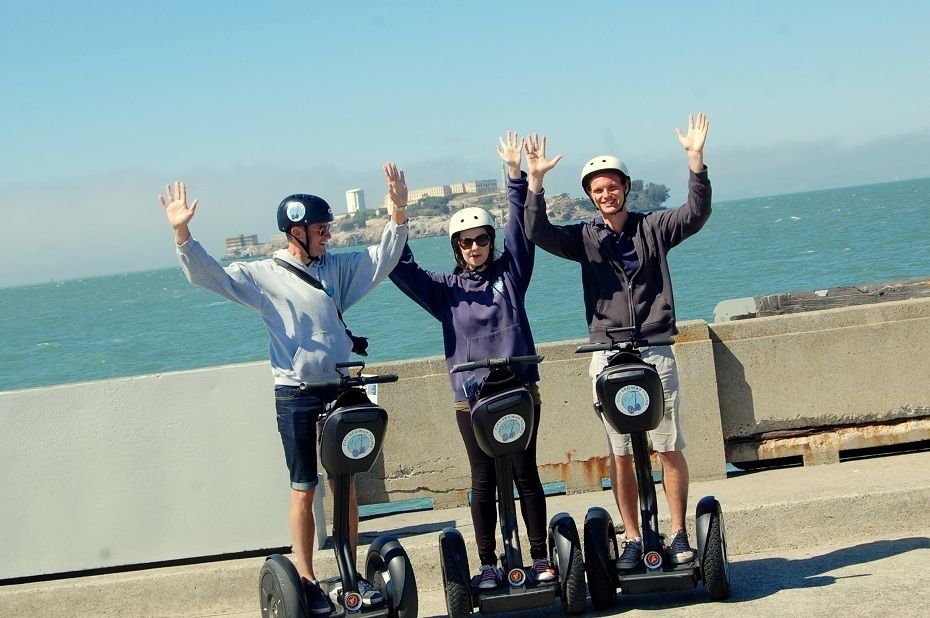 Where's your favorite place in this planet and why?
"So far we have to go with the US. We've been there many, many times and we find the people amazing. The US has so much to see and do and we feel like we still have lots of experiences to come in the country. However, we're soon travelling to Central and South America and from what we hear it's above amazing – so maybe our answer will be different in a year? Who knows."
What's your best tip for newbie traveler?
"Our best tip is to forget about your fears. We all worry about the unknown, but the truth is that the world is beautiful and its people even more so. So bury your fears far, far away and book that ticket. We know how nerve-wrecking it can be, we've been there many times – Celia even cried in fear and doubt on the plane to San Francisco – but every trip has been more amazing than the one before. So just do it. It's as simple as that."
What's the funniest and silliest thing you've ever done while travelling?
"Besides cycling all the way to Rome from Copenhagen (which was a little silly in itself), on that trip Celia managed to fall in a canal in France! It was the weirdest ever, since we were cycling on a straight road along the canal. Suddenly, Celia's front wheel on the bike got stuck in a hole in the dirt road, and she lost control and fell in the water! After she got out, we couldn't stop laughing about it and we still sometimes find ourselves laughing about her clumsiness. ;)"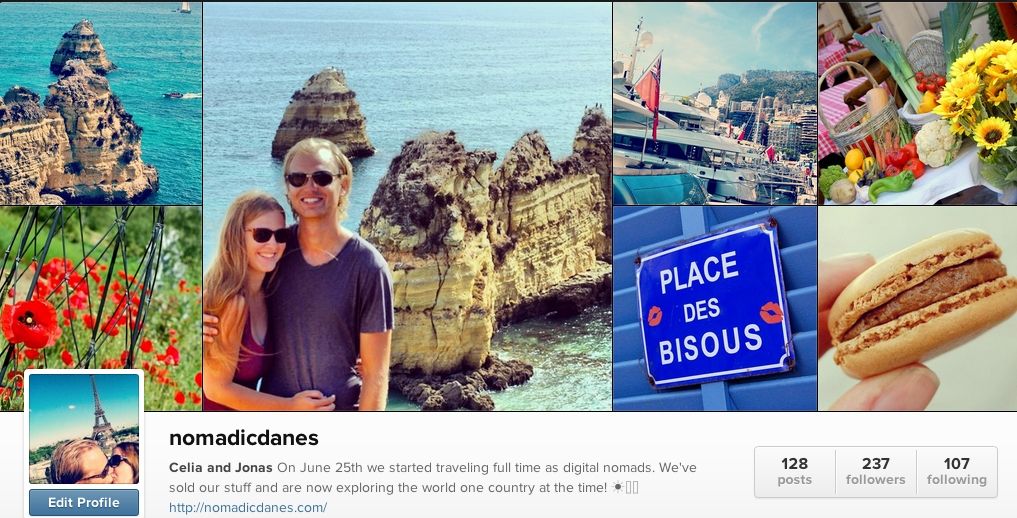 How do you fund your travels?
"As all digital nomads out there we work online. Right now we haven't looked into monetizing the travel blog but we hope to do it in the future. Besides that we have a content marketing business where we work with Danish clients. We have most of the writing outsourced, though. We also have a webshop in Denmark that is almost automated. We've rented out our Copenhagen apartment which also make us some money. Besides that Celia has a Danish beauty blog that makes some money, and we each have some niche-sites that make us some money from affiliate sales."
How do you keep yourself safe on your travels?
"Travelling is something that many people believe to be very dangerous. We believe otherwise. Of course we're not naive and we make sure to research which neighborhoods to stay away from and just generally follow our guts. When we biked through Europe, we came across a huge camp of gypsies who had a large fire. It was dark and something just seemed off, so we went the other way. We try to just avoid situations that could be dangerous and with the right amount of research we've always felt safe while travelling."
What do you think about yourself?
"We think that we're brave people who dare to follow our dreams even though many have told us that we are unrealistic or wasting our talents. We also think that we're nice and helpful people who are funny to be around. Mostly we believe in ourselves and we believe in others."
"We're a Danish couple travelling the world as digital nomads. Our blog is Nomadic Danes and it's our free space where we can share our stories and memories and write about our huge passion of travelling. We love to do things differently, and so this summer we did a huge bike ride on two normal city bikes from Copenhagen to Rome. We cycled 3744 km with no training, no bicycle gear and in our normal clothes. It was an amazing experience. Right now we're relaxing and catching up on work on the Algarve coast in Portugal. Next we're headed to Florida, Central and South America. We hope to inspire others to follow their dreams – whether it's travelling or something else. We believe that if you can dream it you can do it!" – Celia and Jonas of Nomadic Danes
Editor's Note: All pics are provided by Celia and Jonas.
Next: Beth Williams of Besudesu Abroad Previously: Darcie Connell of Trekity For more interviews with travel bloggers, check out the archives of Meet the Nomads.